I think we can officially say that our 2017 season has begun!
Our staff started trickling in at the beginning of last week, and we have just about half of our entire summer staff here at this point. They're busy cleaning cabins (including the beautiful new Big Buffalo!), splitting wood, opening up the lodge — only to name a few things! Opening all of our buildings up after 7 to 8 months of non-use is quite the undertaking.
Our maintenance/winter workers, Byron and Jesse, finished up Big Buffalo yesterday and it really is beautiful. Everything from the front porch to the bathroom tile has been carefully thought out and placed, and we couldn't be more excited to see the finished product — we hope that you'll like it too.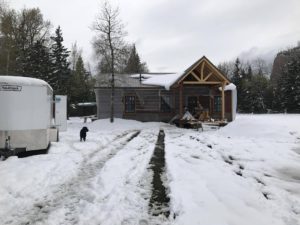 On another less fun note (or more fun depending on who you ask) – we were hit with about a foot of snow over the course of about 36 hours in the last two days!! Can't say that snow in spring is completely foreign to us – but getting that much definitely threw us for a loop! Some of our staff had fun playing around in it the first night it hit – it's been melting off most of today, though, so we're ready for muddy and sloppy grounds for a bit!
Hard to believe that the season is finally here – our first guests get here in just about 3 weeks, and we can't wait!
Hope everyone is having a wonderful spring.
With love from the 7D.